Tripping USA, Part II
If you happened to grow up in the Midwest, it can be hard to imagine the sheer diversity of landscapes, unique rock formations and overall beauty that the US has to offer. Don't get me wrong, Ohio is a great: peaceful and predictable, lots of flat land, fields, and slow rolling hills. But a trip out West blows your mind when you realize how glaciers, super-volcanos, earthquakes and other natural forces have shaped the Earth over millennia. Moreover, how can so many, diverse natural wonders exist in such a confined part of the world?
In our last blog post we wrote about many of the wonders we saw in the first half of our US road trip. Below you'll find a brief recap and pictures of the second half of our trip through the South West. Like last time, we'll let the pictures do most of the talking.
THE WANDERLIST: USA Road Trip, Part II
Antelope Canyon
I guarantee you've seen pictures of this place before (if you use a Mac, it's likely your wallpaper right now). Despite being extremely small (only 120 ft deep and 660 ft long) Antelope Canyon is the most photographed canyon in the world. Its appeal lies in the way the light pours through its openings, painting the rocks different colors at different times of day. And at certain times of the year light beams shine like spotlights from the ceiling. Visits to the canyon are arranged by the Navajo tribe, who once used it as a hiding place from a pursuing Federal government. Today, the Navajo arrange large groups to visit the Canyon at several times a day. Although the experience was a tad rushed and crowded, we found ourselves wrapped up in its beauty and got to take some amazing pictures.
After Antelope Canyon, we drove a few minutes to the picturesque Horseshoe Bend, a place where the Colorado River loops around the canyon in the shape of—you guessed it—a horseshoe.
Zion National Park
Just two and a half hours outside Las Vegas lies a gorgeous red rock canyon called Zion. The park itself isn't large and can be explored in just a day or two, but has some some of the most amazing hikes in the US, offering diverse views above and inside the canyon itself. The area was established by its first permanent resident, a Mormon pioneer named Isaac Behunin. Feeling overwhelmed by the power and beauty of the landscape, Behunin remarked "A man can worship God among these great cathedrals of rock as well as in any man-made church." The plethora of natural cathedrals was thus baptized Zion.
Bryce Canyon National Park
Close to Zion in Southern Utah, Bryce is another large red rock canyon that can be explored in a day. Its distinct feature are the gigantic rock spires called "hoodoos," which have formed all throughout the floor of the canyon. Hoodoos form as water flows into cracks in the rock, then freezes and expands at night causing outer layers to eventually shed. This freeze/thaw cycle happens hundreds of times each year, creating the alien spires we know today.
Canyonlands National Park
Utah is packed to the brim with natural phenomena. Around every bend is yet another amazing view. On the Western side of the state is a gigantic canyon stationed inside of Canyonlands National Park. From the 'Island in the Sky' region of the park where we visited, you get a breathtaking view over the steep canyon ledge onto the Colorado and Green rivers. The experience almost guarantees awareness of your relatively puny size in the universe and makes you think deeply about the importance of the challenges you're facing.
Arches National Park
By far our favorite hike of the entire road trip was the rigorous 3-mile uphill trek that led to the breathtaking Delicate Arch (the one on the Utah license plate). Arches National Park, just down the road from Canyonlands, is so named for the over 2,000 natural rock arches that can be found throughout the landscape. These amazing structures formed over millions of years through the uplift of a sandstone rock layer and erosion caused by water.
Monument Valley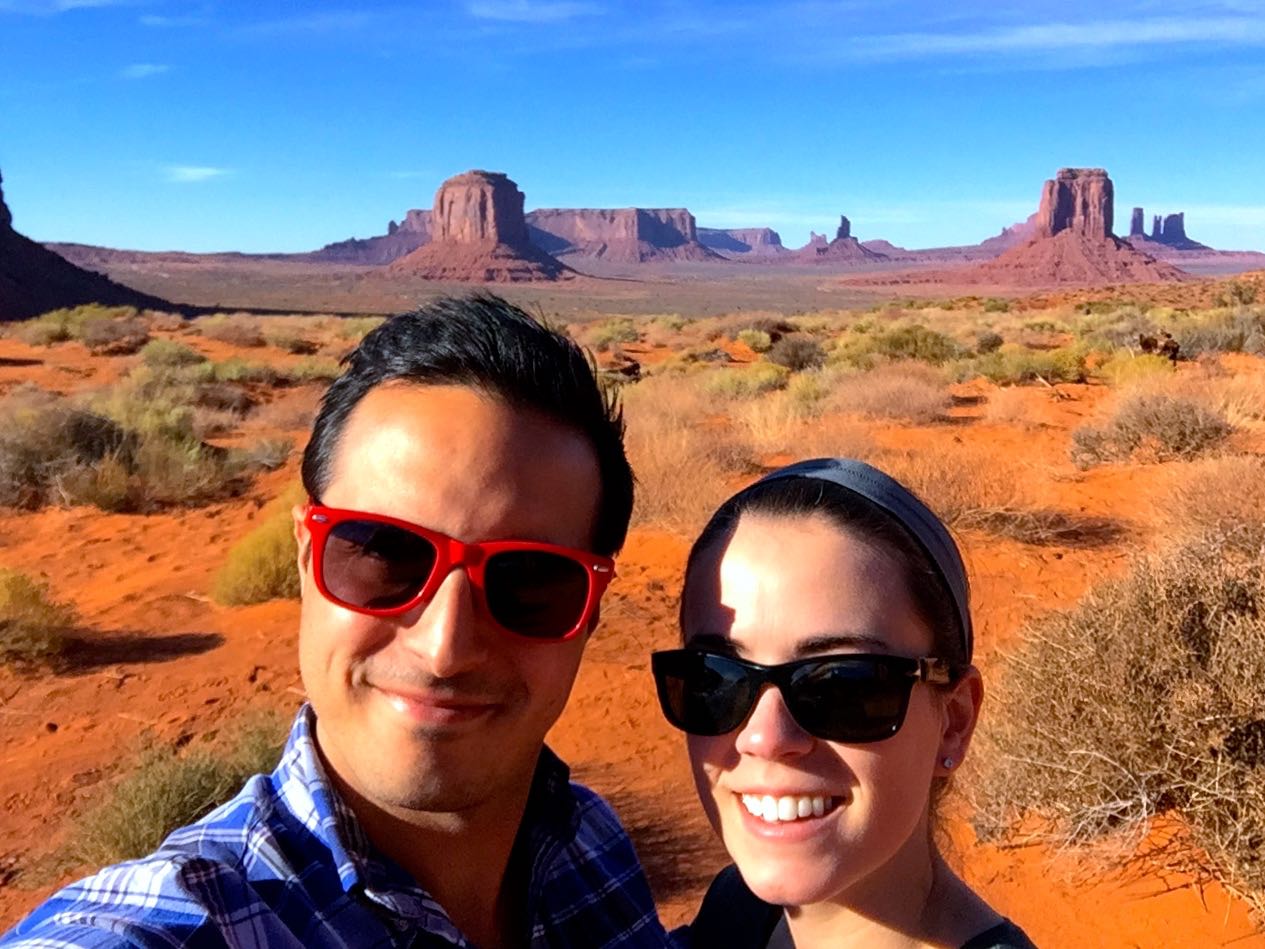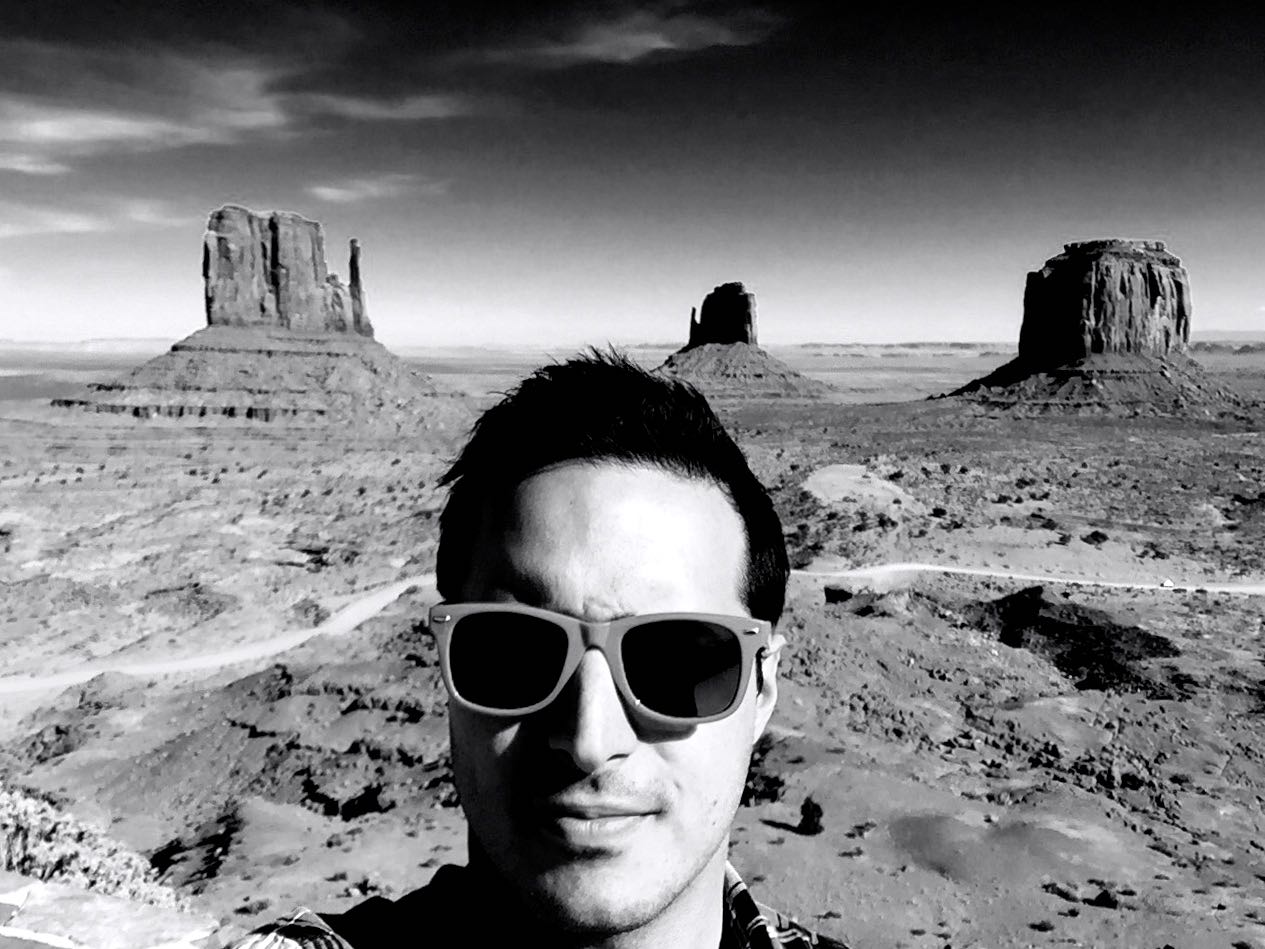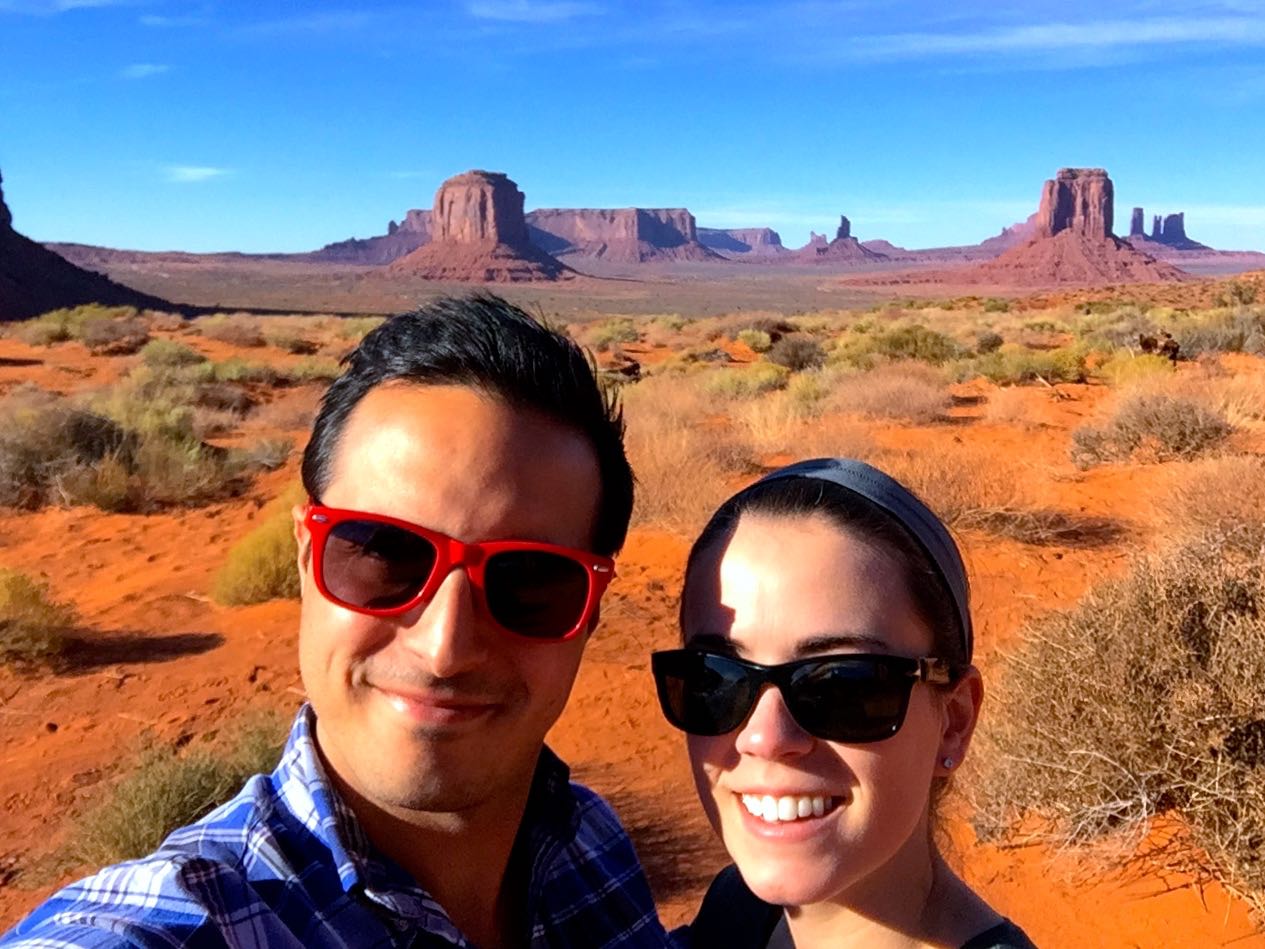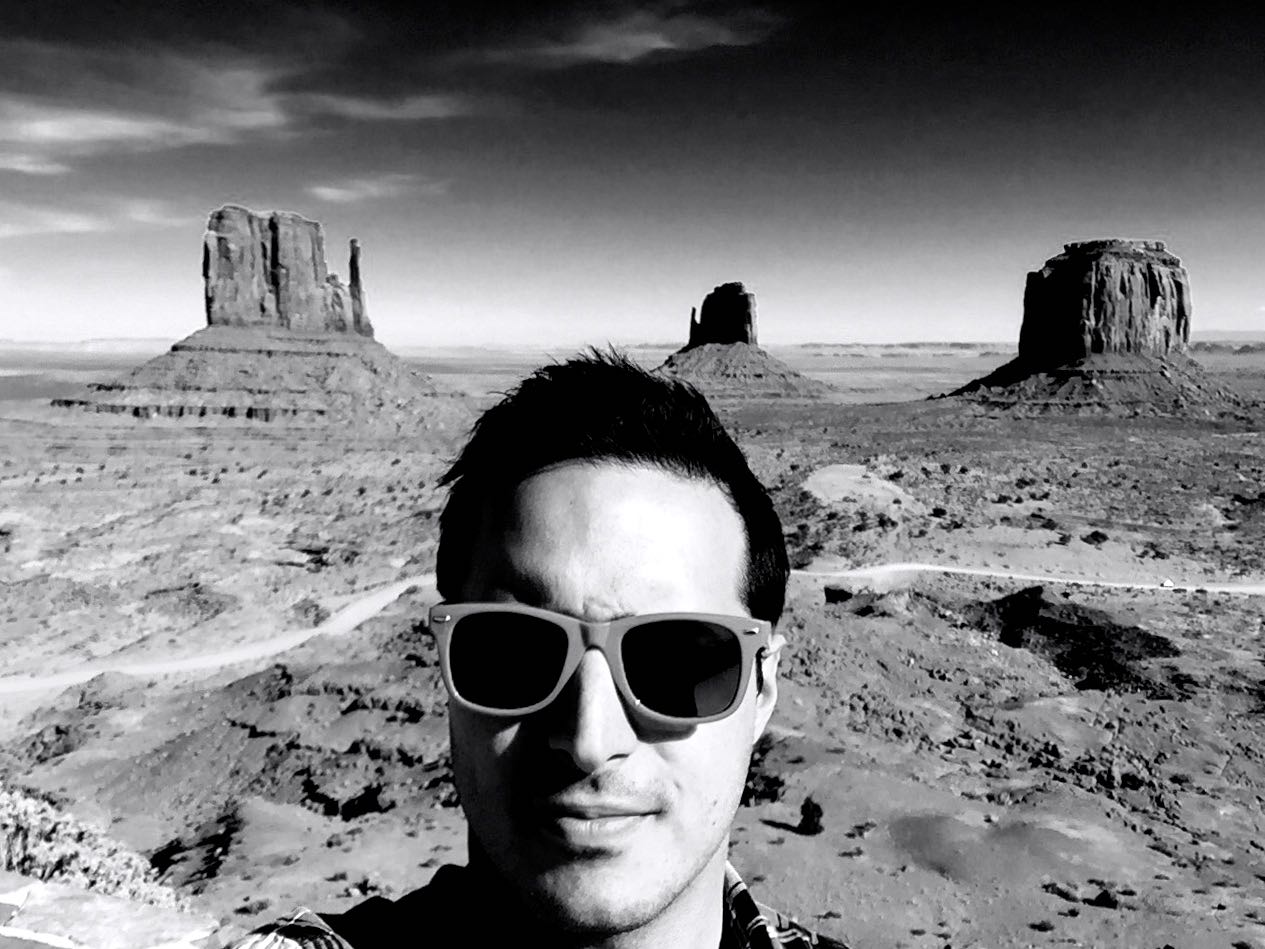 Monument Valley looks just as it sounds: dozens of thousand-foot-tall, solid stone structures tower above your head, looking as though they've been erected to honor gods or generals. Instead, these monuments are naturally formed from hundreds of thousands of years of uplift and erosion. This land also belongs to the Navajo Nation, who have named the monuments based on their shapes—"The Mitten," "The Elephant," and "The Three Sisters" to name a few.
During our drive out of the Valley, Rolando looked back and asked me to stop the car. Confused, I complied. He went to the middle of the deserted road, took a picture, and got back in the car. It wasn't until later I realized that we were standing at the exact place where the famous "Forrest Gump stops running" scene in the movie was filmed. Somehow he recognized it and decided to mimic the scene, the result of which is shown in one of the photos for your enjoyment :P
OMG DINOS!! (Dinosaurs National Monument & Dinosaur Ridge)
As a kid, Rolando read dozens of books and magazines telling tales of a magical land far, far away, where prehistoric beasts once roamed and where millions of fossils can be found today. That magical land was called Utah. So, of course we had to incorporate some dinosaur tourism into our Utah visit. We took a side trip to visit the Dinosaur National Monument in Northern Utah, home of the Dinosaur Quarry, one of the largest bone concentrations ever found. Here, thousands of fossils including Allosaurs, Apatosaurs and Stegosaurs have been found in a very confined area. The reason? Millions of years ago, this area was a sandbar on a river bank. As dinosaurs died and floated down the river, they got stuck in the sandbar and were quickly buried in the mud, allowing for optimal fossilization. Paleontologists exposed a gigantic two-story portion of the quarry for visitors to view. We even touched a real Apatosaurus femur!
Our next dinosaur stop was to Dinosaur Ridge just outside of Denver. Here you can see an exposed rock layer with hundreds of dinosaur footprints. Apparently millions of years ago this area was a dino super highway! Turns out dinosaurs, much like birds today, migrated South for the winter.
Death Valley National Park
Called the land of superlatives, Death Valley is one of the largest National Parks (3.4 million acres), one of the hottest places on Earth (highest recorded temperature: 134º F / 57º C), the lowest place in North America (300 ft. below sea level) and the driest place in the US. Luckily, we visited in the beginning of November, so we didn't die 😃. During this time of year we didn't have to contend with extreme temperatures as we hiked through the park's salt flats and canyons, explored brightly colored mineral deposits, played on gigantic sand dunes, and walked deep into a volcanic crater.
---
Our trip across the US came to a close after 2 months, 14 states, 17 National Parks and Monuments, almost 9,000 miles, countless gallons of gasoline and (surprisingly) 0 flat tires!
Those of you who are following us on Facebook or Instagram know we're a bit tardy on publishing this blog. We're not in the US anymore... in fact we've spent two weeks in Europe and are now on to South East Asia! But, as they say, better late than never. Hope you enjoyed!
If you want more frequent updates, we post almost daily pics and/or stories to Instagram. Be sure to download the app and follow us 😃
Until next time!
Jenn & Rolando